Which female CM's biopic is coming after Jayalalithaa?
After Nawazuddin Siddiqui, Kangana Ranaut, Priyanka Chopra, Richa Chadha is also going to be seen in a biopic. The special thing is that the film is a biopic of a woman CM. The name of this film is 'Madam Chief Minister', which was earlier to be called 'Madam Ji'. Subhash Kapoor is directing this.
At the moment it is not clear which female CM this biopic is on. Names like Sushma Swaraj, Sheela Dixit, Uma Bharti, Mayawati, and Mamta Banerjee are expected. But most of the shooting of the film is done in Lucknow, so speculations are being made that this film may be a biopic of Mayawati.
According to reports, the film has been dealt with in a schedule of 40 days. It was shot in Lucknow in November and December last year. Its release is expected on 17 July.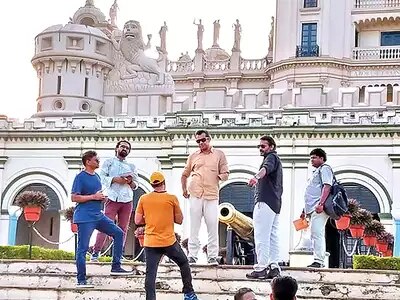 The shooting of the film has been completed and after that, the makers announced the film. A press note has been issued by the makers. It has been written that Subhash Kapoor wanted such an actress for this film, who is clear, frank and socially-politically aware. He got Richa Chadha on all these parameters.
Richa said about this film,
"I am very happy to say that our film 'Madam Chief Minister' has been announced. This is my most difficult role. I am lucky that I got to play this role. And I was able to work with Subhash sir of Viti Nature. It was fun working with a cast like Manav Kaul, Akshay Oberoi and Saurabh Shukla. "
In January this year, Richa Chadha said in an interview to First Post,
"I am very excited for my next film Madam Chief Minister, which is Subhas Kapoor's political drama. The film has been shot in many parts of North India. "
Then she described it as the most fun, productive and difficult shooting experience. However, she refused to talk more about the film, because the film had not been officially announced.
'Madam chief minister' Apart from this, Richa is working in Shakeela Khan's biopic. Shakeela has been an actress of South's adult films. she has acted in many B-grade films. She later moved to mainstream cinema. Worked in more than 250 films. Her life was very much like actress Silk Smita.
Talking about the film on politicians, Kangana Ranaut is also working in the biopic of South Actress and CM Jayalalithaa. she has also increased her weight for this film. The biopic of Manmohan Singh, Bala Saheb Thackeray, Narendra Modi has arrived.